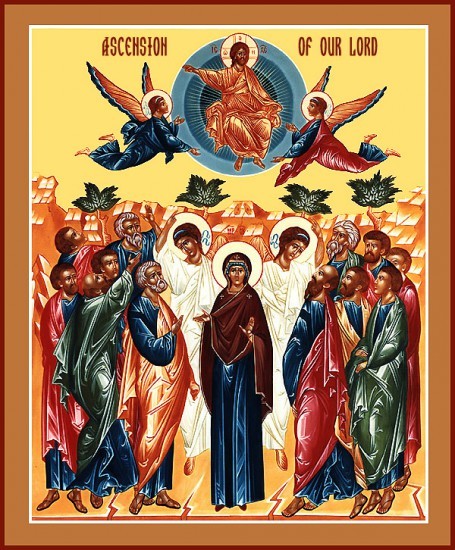 Welcome
The Church's doors are open to everyone. Anyone may come and pray with us, celebrate with us, and participate in our parish family's events and activities.
First-time visitors are welcome to come for any of the services listed on the church calendar and are invited to contact Fr. Christopher if they have any questions before or after services.
Service Times
Saturday
Great Vespers: 6:00 pm
Sunday
Orthros: 9:00 am
Divine Liturgy: 10:00 am
Abstain from meat, fish, dairy, eggs, wine, olive oil
Saints
Venerable Kyriakos the Anchorite

Saint Kyriakos (Kyriákos)1 was born in the Greek city of Corinth to the priest John and his wife Eudokίa. Bishop Peter of Corinth, who was a family relative, seeing that Kyriakos was a quiet and sensible child, made him a Reader in church. His constant reading of the Holy Scriptures awakened in…

Martyrs Dadas, Gabdelas, and Kazdoa of Persia

The Martyrs Dadas, Gabdelas and Kazdoa (Kasdoe) accepted death for Christ under the Persian emperor Sapor. Dadas was chief steward under Sapor, and Saints Gabdelas and Kazdoa were the cruel emperor's own children. Not knowing that Saint Dadas was a Christian, the emperor appointed him as…

Venerable Theophanes the Merciful of Gaza

Saint Theophanes the Merciful was an inhabitant of the Syrian city of Gaza. He was very kind and merciful. He took in vagrants, he helped the poor and the sick, and he spent all his substance on help for the needy, while he himself remained in want. Saint Theophanes did not grieve at all over the…

Saint Onuphrius of Saint David Gareji Monastery, Georgia

Saint Onuphrius of Gareji (Otar Machutadze in the world) lived and labored in the 18th century. He was a Kartlian aristocrat famed for his wealth, hospitality, and charity. Longing for the ascetic life, Otar wore a hair shirt under his distinguished raiment and unceasingly prayed to God for the…

Saint Cyprian of Ustiug

Saint Cyprian of Ustiug was a wealthy landowner, but turning from the vanities of the world, he received the Angelic Schema with the name Cyprian at the monastery of the Holy Trinity at Gledeno. The inhabitants of the newly-established city of Ustiug begged Saint Cyprian to build a monastery…
Readings
ST. PAUL'S LETTER TO THE GALATIANS 5:22-26; 6:1-2

Brethren, the fruit of the Spirit is love, joy, peace, patience, kindness, goodness, faithfulness, gentleness, self-control; against such there is no law. And those who belong to Christ Jesus have crucified the flesh with its passions and desires. If we live by the Spirit, let us also walk by the Spirit. Let us have no self-conceit, no provoking of one another, no envy of one another. Brethren, if a man is overtaken in any trespass, you who are spiritual should restore him in a spirit of gentleness. Look to yourself, lest you too be tempted. Bear one another's burdens, and so fulfill the law of Christ.

LUKE 6:17-23

At that time, Jesus stood on a level place, with a great crowd of his disciples and a great multitude of people from all Judea and Jerusalem and the seacoast of Tyre and Sidon, who came to hear him and to be healed of their diseases; and those who were troubled with unclean spirits were cured. And all the crowd sought to touch him, for power came forth from him and healed them all. And he lifted up his eyes on His disciples, and said: "Blessed are you poor, for yours is the Kingdom of God. Blessed are you that hunger now, for you shall be satisfied. Blessed are you that weep now, for you shall laugh. Blessed are you when men hate you, and when they exclude you and revile you, and cast out your name as evil, on account of the Son of man! Rejoice in that day, and leap for joy, for behold, your reward is great in heaven."
The Orthodox Church
The Orthodox Church (often called The Eastern Orthodox Church) is the earliest Christian Church, the Church founded by the Lord Jesus Christ and described in the pages of the New Testament. Her history can be traced in unbroken continuity all the way back to Christ and His Twelve Apostles. For twenty centuries, she has continued in her undiminished and unaltered faith and practice. Today her apostolic doctrine, worship and structure remain intact.
Read the "Discover Orthodox Christianity" section on the Antiochian Orthodox Christian Archdiocese webpage, and the Nicene Creed, to learn more about Orthodoxy.
Address & Services
We are located at 96 Dunbar Rd S, Waterloo, ON N2L 2E5
What To Expect
Visitors will notice that the congregation actively participates in services by crossing themselves, standing, bowing, kneeling, reciting traditional prayers together, and singing. Don't be intimidated – no one expects you to know what these acts and symbols mean or when you should do them. There are spiral-bound service books in the hallway (the narthex) leading into the main part of the church (the nave) that will guide you through the service.
Regular Services
Sunday
Orthros 9 a.m.
Divine Liturgy 10 a.m.
Saturday
Great Vespers 6 p.m.
Get In Touch
Send us a message or reach out to us directly.
Contact
Father Christopher Rigden-Briscall, Pastor
96 Dunbar Rd S, Waterloo, ON
Phone: 519-807-2986

"This, then, is the aim of the Liturgy: that we should return to the world with the doors of our perceptions cleansed. We should return to the world after the Liturgy, seeing Christ in every human person, especially in those who suffer. In the words of Father Alexander Schmemann, the Christian is the one who wherever he or she looks, everywhere sees Christ and rejoices in Him. We are to go out, then, from the Liturgy and see Christ everywhere."